If you want to hit the target like a hero we've got all the information you need to help you pick up a bow. There's different types of archery depending on your age so you can get started as soon as you like. Find out about archery in schools and try an archer workout to get those muscles moving!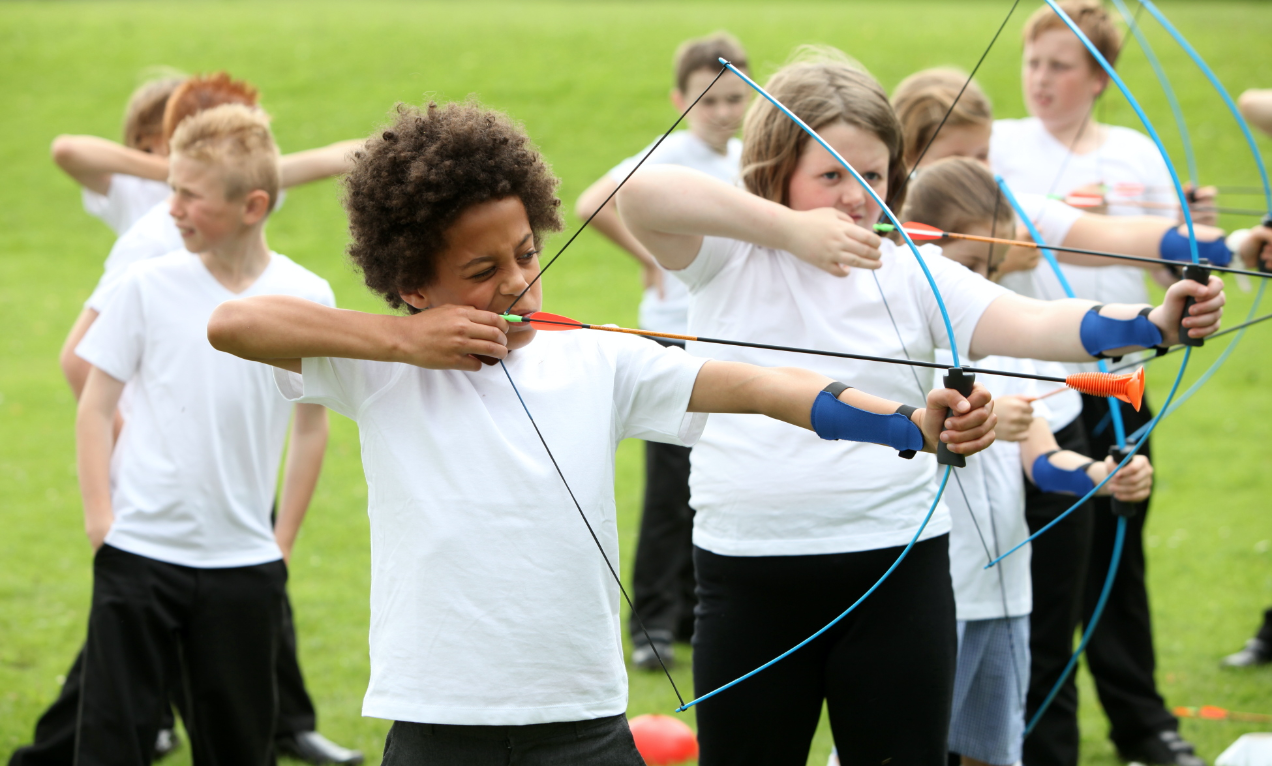 Can I do archery in school?
Archery can be done in school with different versions for primary and secondary. In primary school the Arrows programme uses arrows fitted with suction cups. In secondary school you can do archery using 'pointy' arrows. You can do intra-school competitions as part of the School Games.
Ask your teacher to email membership@archerygb.org to find out more.
If you want to progress in the sport use our course finder to find beginners' courses or have-a-go sessions near you.
How old do I have to be to try archery?
You can be any age to try Arrows' archery but some clubs have age restrictions for courses. Contact your local club to find out more.
Other places where you can enjoy archery are leisure centres, holiday camps, and Scouts and Guides.
Can I do archery at home?
Arrows' archery is safe to do at home but archery with pointy arrows has to be done under adult supervision at a club, school or activity provider.
We've created two archery games that you can play at home and two archery workouts to start working the muscles you use in archery.
Hit the Gold: Mark a cross (gold) on a wall or piece of paper and draw three circles around it, they don't have to be a perfect shape. You have three throws at each distance and have to score as many points as possible. The cross (gold) is worth 10 points, inner circle 7 points, middle circle 5 points and outer circle 3 points.
Bucket Challenge: Set up 3–5 buckets or other objects in a line, with smaller objects closer to you and bigger objects further away and see how many balls you can throw into the buckets/objects. Give yourself a time limit to increase the challenge!
Mobility Monday wheelchair workout: Join Para squad archer Martin Saych for a series of stretches aimed at keeping you moving. The only kit you need is a filled water bottle and a stretch band (a school tie or old pair of tights is a good alternative). The stretches work on all of the muscles Martin needs to use to draw a bow and aim for the gold!
Workout Wednesday Time Smash Session: Join exercise specialist and elite archer Lucy O'Sullivan for a timed workout session. Lucy will take you through a series of squats, burpees, press-ups, and crunches. All you need is a timer to see how you did.
Can I use archery to support my Duke of Edinburgh scheme?
Yes you can! It can be used for either the skills or physical section of the bronze, silver or gold awards (or, all three!). And, if you volunteer at your local archery club, you can also use that for the volunteering section, too.
Click this link to find out more or download the flyer from the Resources section of this page.
Archery Facts
Archery made its debut at the Olympic Games in 1900 and has been a permanent fixture in the Games since 1972
ParalympicsGB has won 60 medals since the sport debuted in 1960, 18 more than any other country
Archery is one of the few sports that can be practised by disabled and non-disabled athletes on a level playing field
Archery is often featured in myths and legends, as well as modern literature and film. One of the best-known mythological archers is Robin Hood and more modern stories that include archers include Brave, The Lord of the Rings and The Hobbit, Arrow, The Avengers and The Hunger Games