Throughout the various lockdowns, disabled and visually-impaired (VI) archers were at liberty to continue training whenever their local clubs were able to provide the opportunity.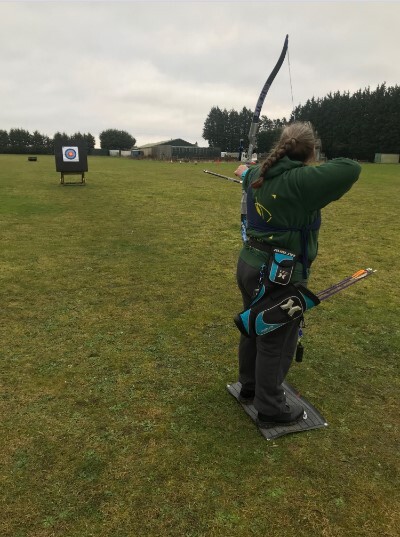 Throughout the various lockdowns, disabled and visually-impaired (VI) archers were at liberty to continue training whenever their local clubs were able to provide the opportunity. For Deb Wright, a highly competent archer with sight loss, the government's confirmation that she could carry on with her sport was all the incentive she needed. She said: "During the first lockdown, I underwent surgery and was not allowed to shoot until mid-September 2020. As my usual club had remained closed since March 2020, I decided to join Wellingborough Open Archery Club in Northamptonshire in October."
Helen Sharpe, Archery GB Ambassador and wearer of various hats at the Wellingborough club, said: "Deb had had 18 months out of the sport owing to injury, but couldn't wait to get her form back. In the past, she's won national indoor championships run by British Blind Sport, and is looking forward to virtual events this year."
Helen was one of many volunteers who worked with Archery GB to produce guidance for disabled people, and at the same time was in talks with her local authority on where the Wellingborough club stood in terms of reopening during the third national lockdown. She said: "We couldn't risk a fine and needed to be absolutely clear that that wouldn't happen. Conflicting government advice stated that organised sport for disabled people could continue but that sports venues should stay shut, which naturally posed a problem for many. Helen said: "Our club committee took a vote to see whether we would open for our disabled archers during the third lockdown, but ultimately there were concerns about Covid safety, and so the club remained shut to everyone."
Gaynor Hutchison, Chair at Aim4Sport in Bedford, came to the rescue and suggested Deb visit their training centre. Helen said: "It worked well because I work at the training centre at the weekends, and so I drove Deb there (taking the usual Covid precautions) and she was able to shoot for as long as she wanted."
Despite Deb's poor eyesight (she can see better indoors than in bright daylight) she needs little assistance when shooting. "Deb has several years' experience and with just a little verbal guidance, shoots very well," said Helen. "She uses a foot mat for correct placement on the line, which I make sure is lined up properly, and I call out where her arrows are hitting the target."
Deb has been training in this way every Saturday since January 2021 and, as Helen says, her confidence is now through the roof. "I would love to think I could have 18 months out of shooting and come back and shoot like Deb does. She's barely dropped a point!" Deb said: "Shooting at Aim4Sport has enabled me to steadily increase my poundage and practise the sport I love."
Deb lost her eyesight as a result of catching swine flu during the 2009 pandemic – a cruel blow that somehow only made her more determined to grab life by the scruff of the neck and try things that she hadn't done before, fishing and archery being two of them. Helen admitted guiltily that Deb is currently crocheting her a pair of socks! Helen said: "I'd rate Deb's chances highly against any non-disabled recurve archer. Under usual circumstances, she competes every year through British Blind Sport and other disability events."
Deb said: "Helen, Dave and Gaynor at Aim4Sport have provided me with transport, support, facilities, advise and friendship. I've been able to get back to archery following spinal surgery and build up confidence in my abilities and break a few personal bests. Guidance and support from Helen are very much appreciated. I look forward to the day we can go out for a Guinness and socialise."
Working with Deb has given Helen new insight into the needs of VI people. Having previously worked with wheelchair-bound people in the sport, Helen admits she wasn't confident in her skills to help someone with sight impairment. "Initially, I wasn't sure I was giving Deb enough information about where her arrows were going and I knew I had to improve the level of detail I was giving her. Deb is a recurve archer using large target faces – it's a lot of space to explain where a little arrow has hit!"
Arrow retrieval is done together by Helen and Deb. They wear face masks and keep a safe distance apart during this time, and it's an opportunity for Deb to get close to the target – her condition means that she can see objects close up, depending on the light.
Giving up her Saturdays to help a fellow archer has benefited Helen enormously, helping her overcome agoraphobia issues. She explained: "Long-standing anxiety means that the longer I lock myself in the house, the harder it is for me to leave it. I don't go anywhere for work while the office is closed which adds to the problem, so driving Deb to the range each week has been so good for me. She is the reason why I'll be able to confidently leave the house when things return to normal – and it's a bonus that I've been able to visit the range every week during lockdown. Even though I was unable to shoot, just being there gave me a sense of calm."
Click here to read Deb Wright's archery blog