Paralympics GB archer Victoria Rumary has taken bronze in the Women?s Individual W1 at her first ever Games.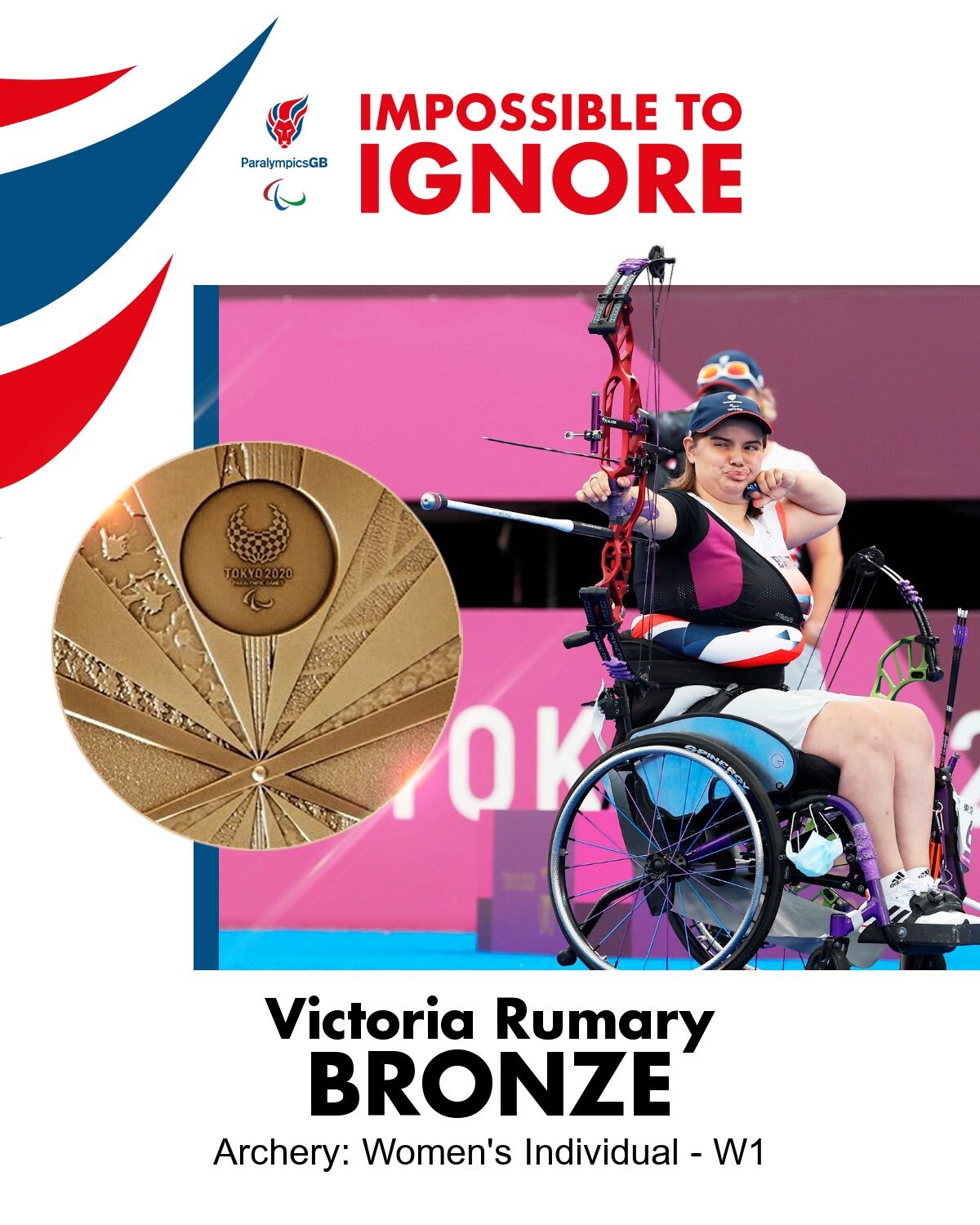 Rumary fought through target misses and breezy conditions to bring home the second medal for the British archery squad.
There were cooler conditions after rain the evening before had led to the competition being postponed to the next morning at Yumenoshima Archery Park.
Rumary, the World no.1, entered the field ranked 6th meaning she faced 11th seed Rejane Candida da Silva of Brazil in the first elimination round.
In the 1st end Rumary missed the target on her second arrow meaning Candida da Silva took the lead by 1 point. But in the 2nd end Rumary came back strong with a near perfect 29. She ended the match 115-107 and proceeded to the quarterfinals.
In the second match she shot against the 3rd seed Asia Pellizzari of Italy. Rumary stayed consistent, hitting her stride and winning 130-124.
In the semifinal she was up against Sarka Musilova, the 7th seed, of Czech Republic. She lost the 1st end but took a 2-point lead in the 2nd. But some low scores and another target miss saw her lose 127-107 to the eventual silver medalist.
In the bronze medal match Rumary went head-to-head with Lia Coryell, the 5th seed, of the USA. Rumary opened with an impressive 29 in the 1st end, before a nail-biting 3rd end saw two of her arrows being upgraded giving her the edge. With one arrow to go the scores were tied meaning Rumary just needed to hit the target to win. She shot an 8 and finished the match 131-123.
Victoria Rumary said: "It has been about trying to get that consistency out there every time. It was good actually to be out there again. It feels amazing to be walking away with a medal round my neck.
"My coach said I can finally have some chocolate cake tonight after the competition. And now I've got my medal she said 'yeah you can finally have your chocolate cake', so I'm looking forward to that."
Commenting on her support back home she added: "I just want to say thank you very much, to all my family. My mum and dad, who have driven me all over the country to competitions, so I could actually get here, I want to thank them and tell them 'I love you all'.
"I also want to thank everyone for all the support from back home, from my club, my personal coach, Tony, who couldn't be here either. But I've had a great team here in Tokyo, who have all really supported us and I'm really, really pleased."
The competition continues for Paralympics GB's archers tomorrow when Hazel Chaisty competes in her first match at 10:00 Tokyo time for the start of the Women's Individual Recurve eliminations.