The final evening of competition in Tokyo stayed cool as Paralympics GB?s Recurve Mixed Team of Hazel Chaisty and Dave Phillips returned to the main field.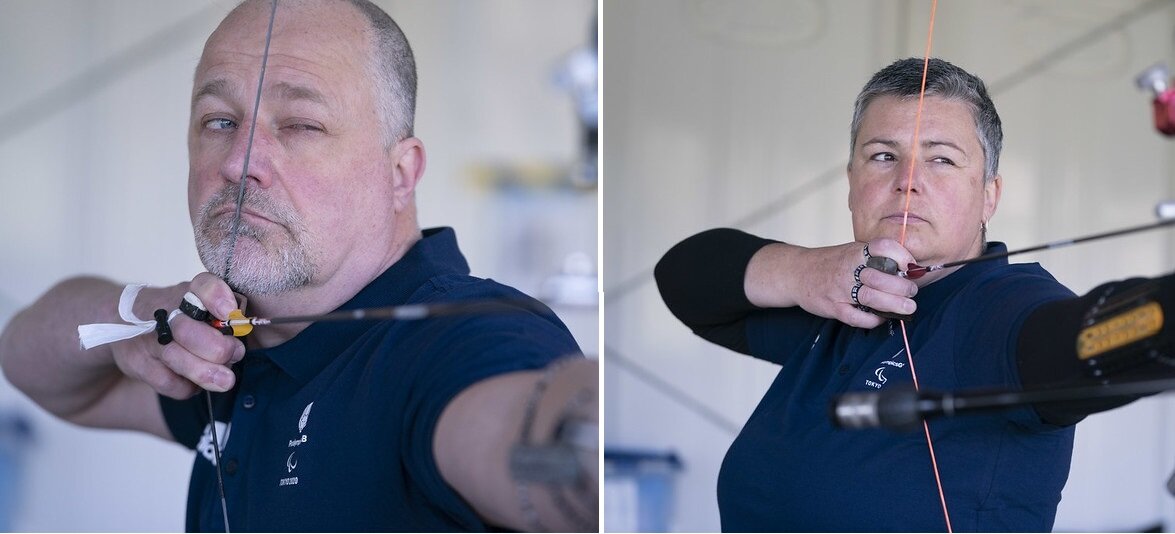 But as the pair entered the arena at Yumenoshima Archery Park the heavens opened soaking the few volunteers and team members watching from the stands and making conditions challenging.
The pair, who qualified 10th, had beaten 7th seed Turkey 5-1 earlier that morning meaning they faced 2nd seed Iran who had a bye to the quarterfinals.
In the 1st set Phillips scored two 10s but Iran scored 35 to GB's 32 winning the set. The 2nd set was a closer match with Iran winning by just two points. Iran continued strong in the 3rd set winning the match 6-0. Iran finished the competition in 4th place.
Hazel Chaisty said: "I shot well on the practice field but I couldn't convert it here. They felt like good shots but they just weren't hitting where I was aiming.
"We did have a sudden downpour. Dave had chalked up his hands and I was frantically chalking my hands. It does have a factor, of course it does but it didn't bother the Iranians at all."
On what's next after Tokyo 2020, Chaisty said: "We've got the World Championships in February so there isn't much switching off. We'll take what we've learned here, take it home and come back better."
Dave Phillips said: "We're a team, we shoot together and we win and lose together.
"We prepared for the conditions, the heat and the humidity but then it rains like it does back home."
The competition brought to an end Paralympics GB's archers' journey in Tokyo which included Phoebe Paterson Pine winning gold in the Women's Individual Compound Open and Victoria Rumary bringing home the bronze in the Women's Individual W1.
Chaisty and Phillips will be the last archers to travel home as Covid restrictions meant the rest of the squad had to depart Tokyo within 48 hours of their competition concluding.