The car park at the City Central Mosque in Hanley, Stoke on Trent was transformed for a summer archery have-a-go day which sold-out within 3 hours of the event launch.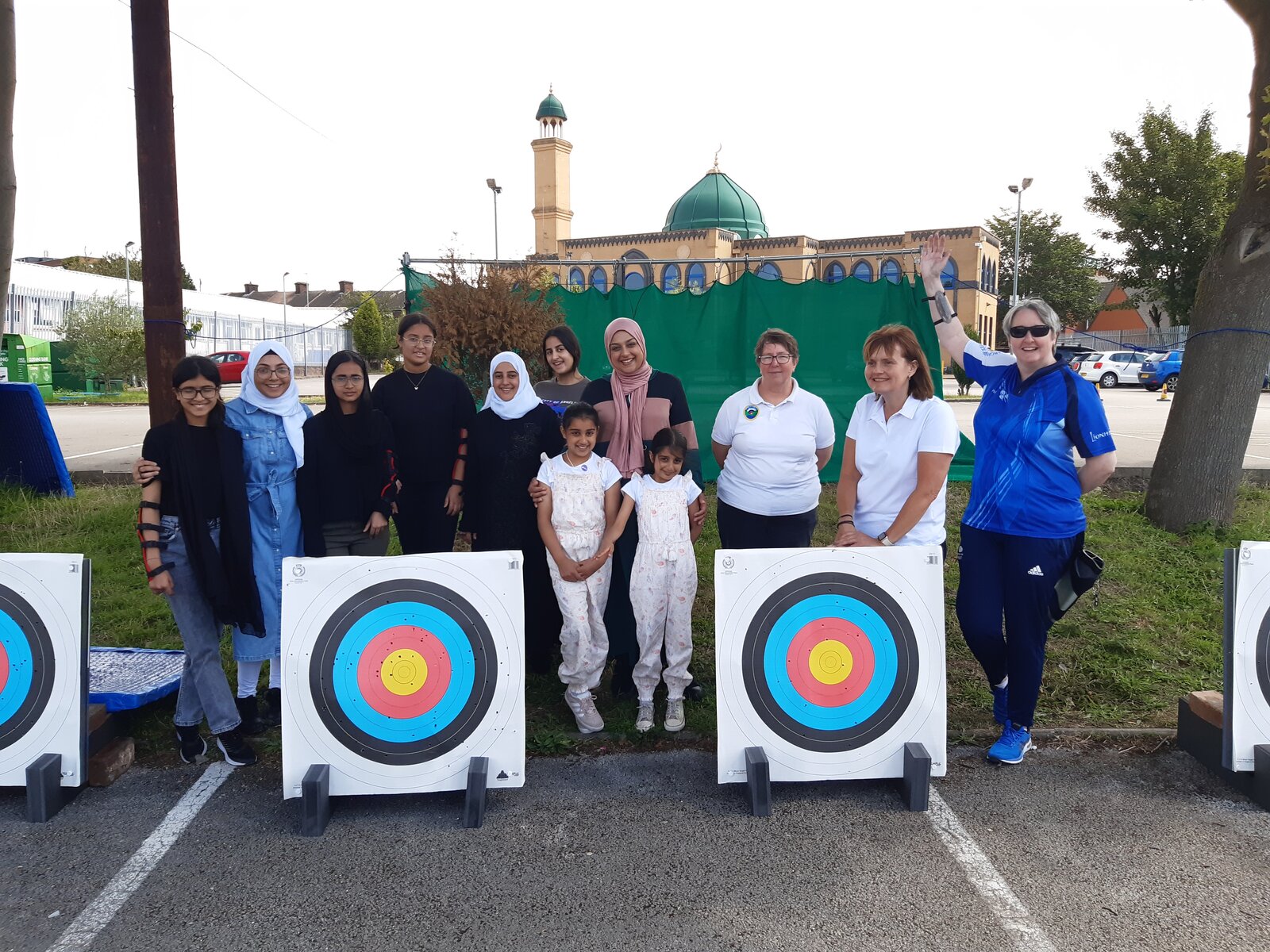 Local club coach and Chair of Staffordshire County Archery Association Grant Piland was inspired by Archery GB's Project Rimaya to reach out to new parts of his local community, in Stoke on Trent. He connected with the City Central Mosque in Hanley, and quickly formed a friendship with Shafiq – a volunteer who works alongside the mosque committee who has previously completed a beginners' course in an Archery GB club, and loved it. Together, Grant and Shafiq planned a whole day of 4 have-a-go sessions, in the mosque car park. No-one knew how these initial sessions would be received, as this was the first time they had tried it.
Shafiq promoted the day through the mosque, and online throughout the local community. Within three hours of going live, all the booking slots were filled! Two sessions in the morning were offered for women and girls run by all-female coaches and volunteers, plus two sessions in the afternoon for men and boys after a short break for 2pm prayer inside the mosque itself.
In all, 40 people took part in the have-a-go sessions, thanks to help from coaches and volunteers mainly from Trent Valley Archers, but also one other Staffordshire coach and one coach from Cheshire, who were crucial to make the day happen.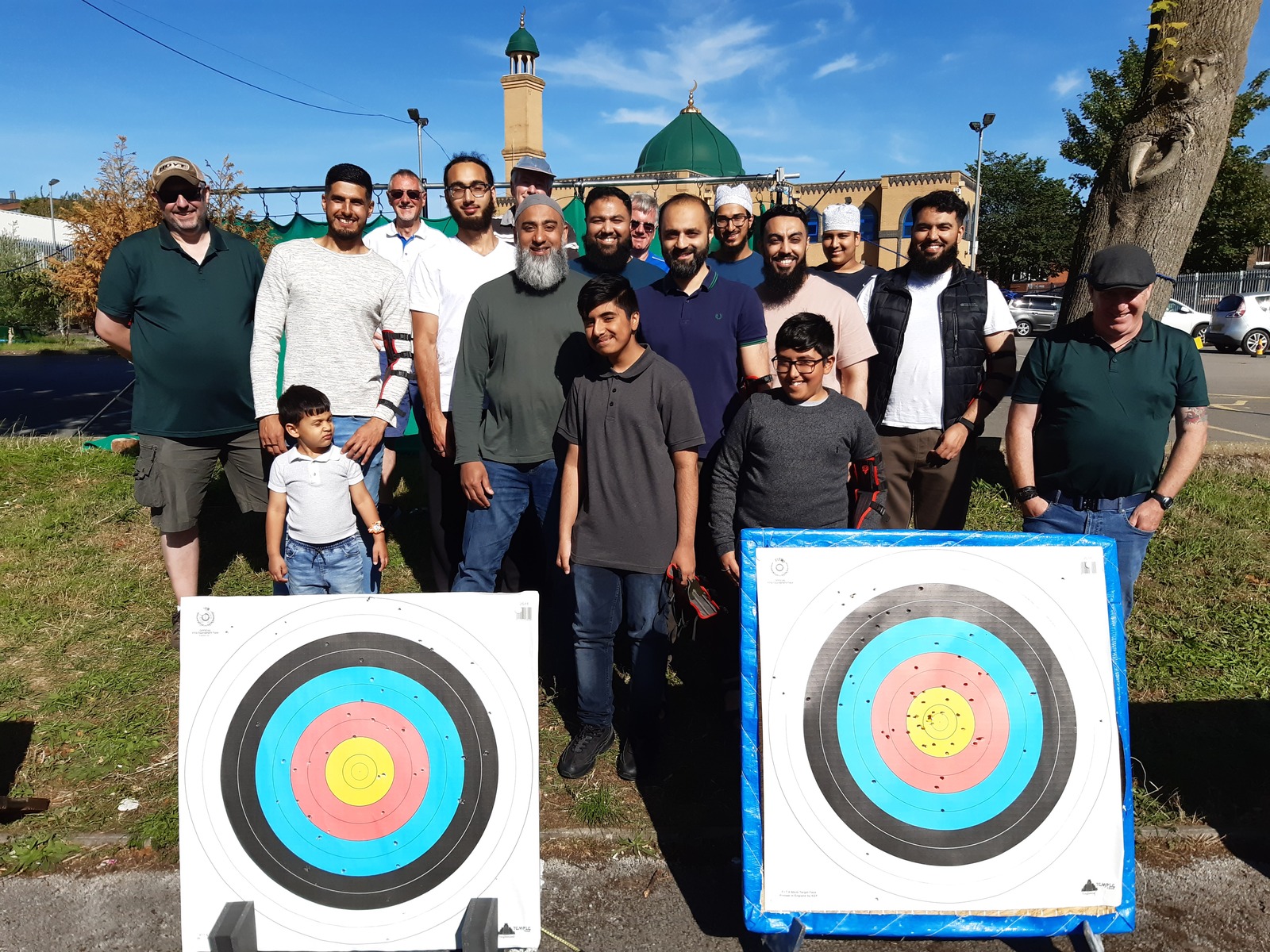 Afterwards Grant reflected: "This day will stay within my thoughts for a long time. I know the coaches had a really good time and want to carry the momentum forward. I noticed a really friendly atmosphere and camaraderie building with the coaches and attendees, and from the enthusiasm of today think we could fill two beginners' courses at least! I'm happy to work with Shafiq, and look to start something ongoing, hopefully based here at the mosque."
Shafiq said: "There will be loads of people through the mosque interested, and we could reach them as well in future. The mosque love this kind of stuff and think it is a good idea, and are happy for us to continue."
"The mosque love this [...] and think it is a good idea"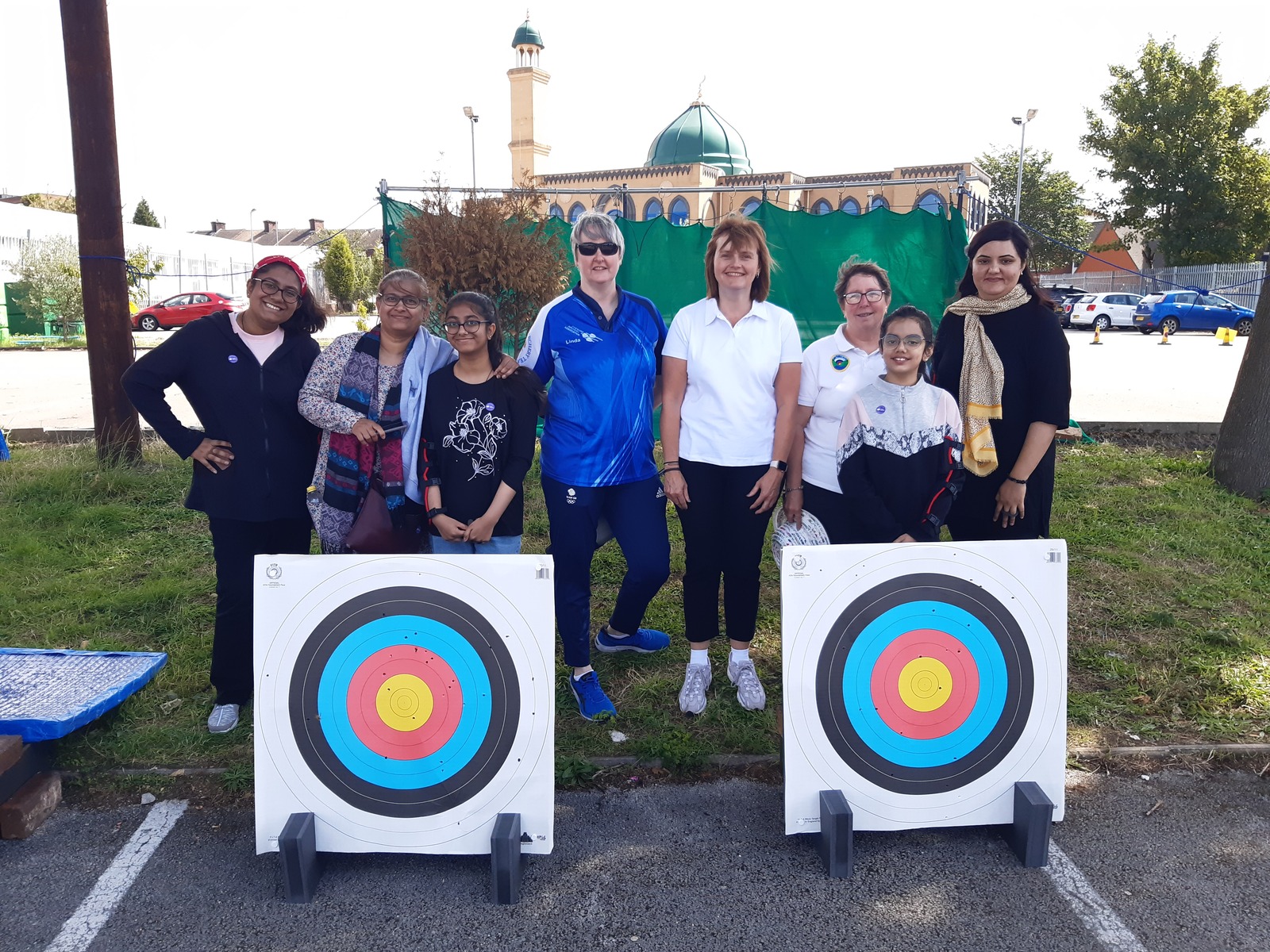 Sana was really keen to attend with her daughter (11) as she had been looking for archery opportunities for some time: "She is just about to start high school, and really interested in archery but I couldn't get her into archery school this summer, because we visited our home country of Pakistan. Then today's opportunity came up, and after today we are really keen to do some more archery."
Awais attended a session in the afternoon: "It was very interesting and it has made me consider it as a new hobby in future. It was very informative and wasn't too formal."
Qasim also really enjoyed the session: "It was really good, I had a really great time. I did archery in a sports week years ago back in high school, and heard about today through the mosque, and through friends. I would be willing to travel anywhere in the city to do some more archery, and would like to get more involved and take a beginners' course."
There were many more people who would have liked to attend but missed out on booking, and the overwhelming majority of the participants said they wanted to learn to shoot. So the question Grant and Shafiq will now be working on together is: what next?