Archer and volunteer Nikki Parkin explains how the sport helps her take control of her disability and boost her confidence.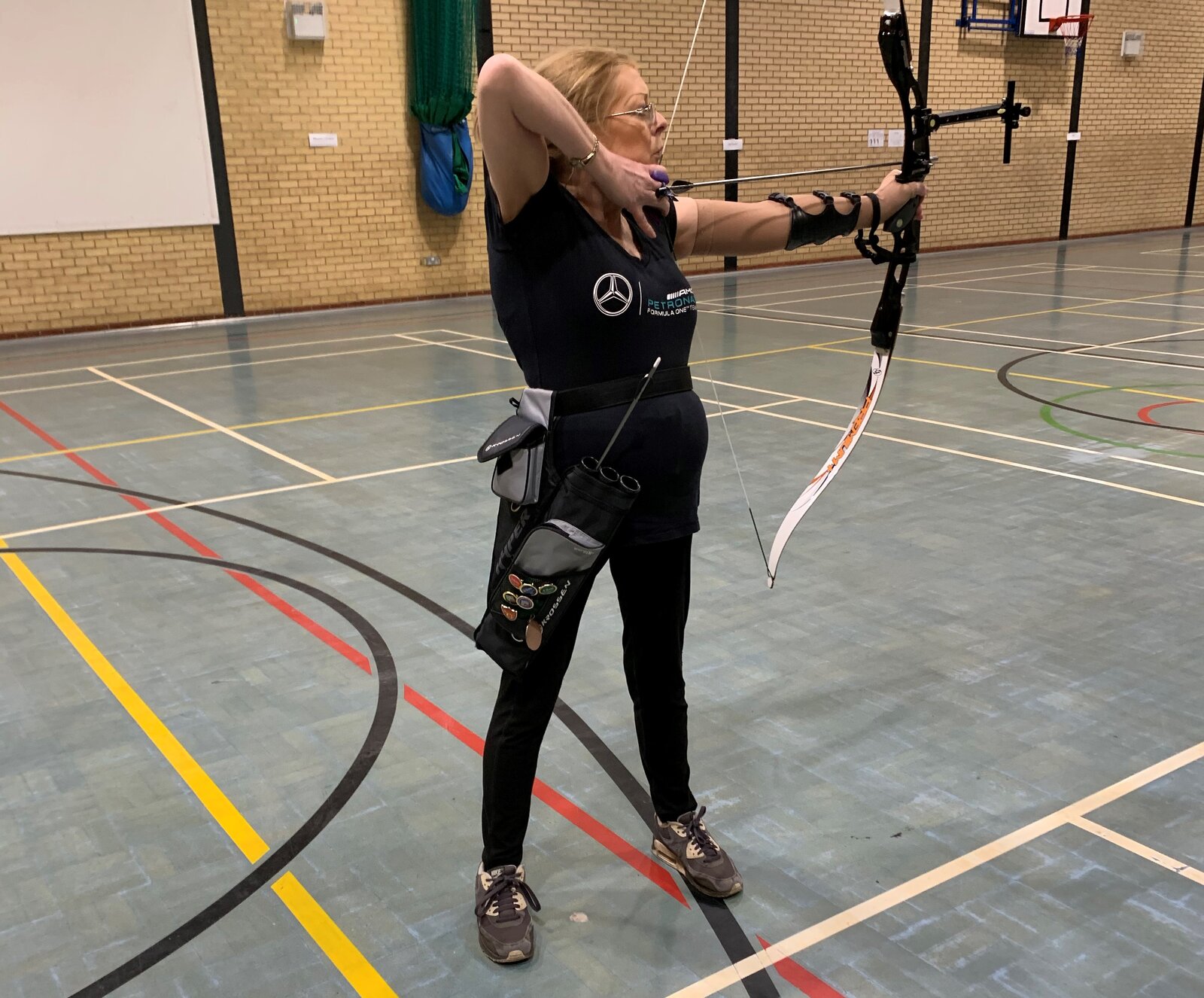 When did you first discover archery?
I first discovered archery when I was about 18 years old during an activity weekend. I thought it was fun but at the time I didn't take it any further. I regularly went to ballroom and Latin American dancing classes which took up quite a bit of my spare time. It was around 28 years later when I rediscovered archery. My husband's stag night included archery and he loved it at the time but couldn't find a local club where we were living. In 2012 we moved to Yateley, Hampshire, and it was there that my husband found a local archery club.
After two major operations plus treatment for dystonia [a movement disorder] I eventually started to regain my strength, and in 2017, out of curiosity, I asked if I could go along and watch my husband shoot. This was to be the beginning of my archery journey. I went along a couple more times just to watch and by this point I had noticed the archer's posture, so I asked the coach if I could have a go. We initially agreed 2 -3 taster sessions which ultimately turned into an entire beginners' course!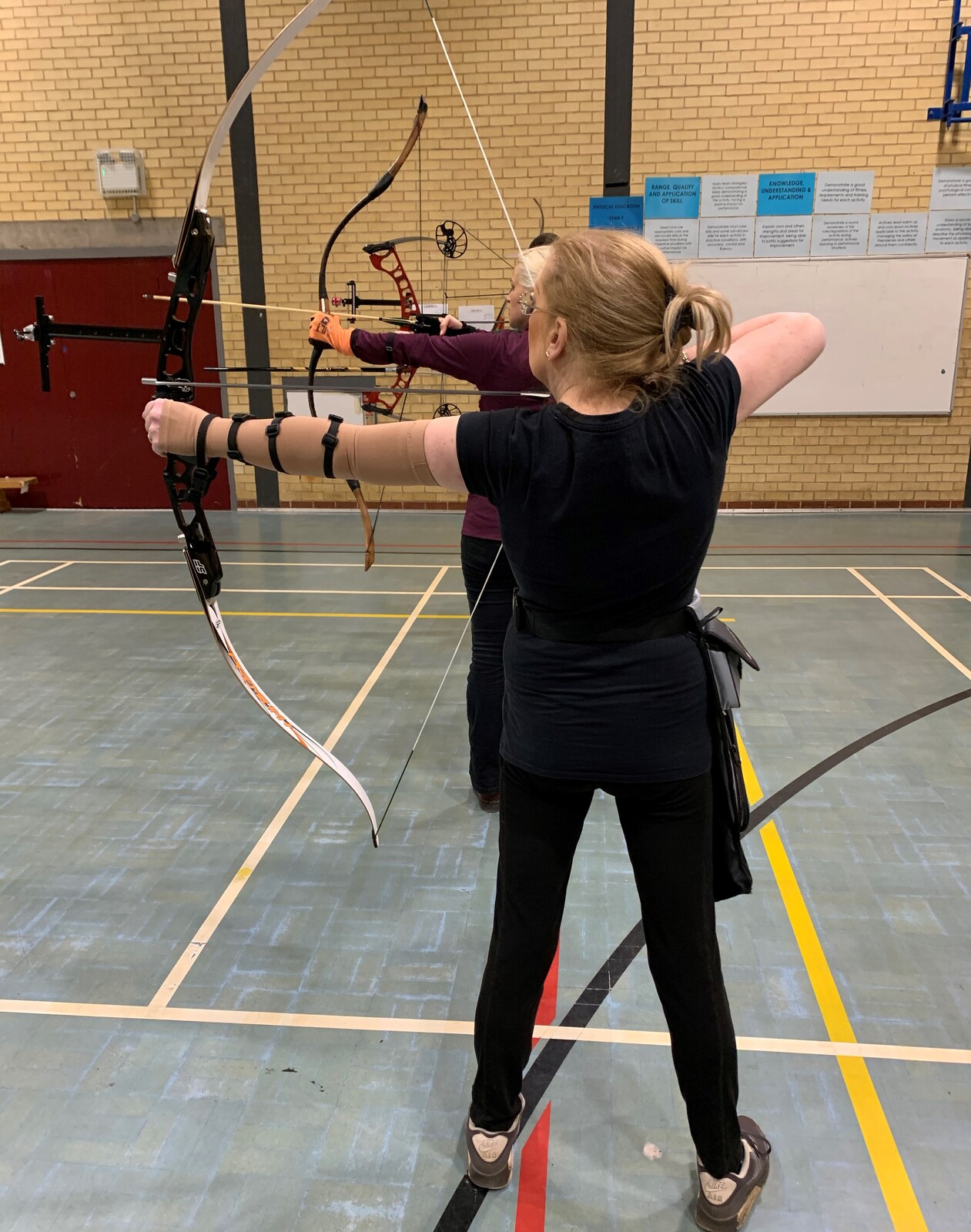 In the meantime, I was accepted on to the committee as the club catering officer, and organised the food for the club's open shoot [see picture below of Nikki (left) and a friend in the catering tent]. In January 2019, we moved again. We had already done our research and once settled into our new home, we joined Archers of Raunds.
How does archery help you?
Archery helps with my posture and my shoulders, and more recently I've noticed my upper body strength has improved. It has also helped with my confidence through the support and encouragement I have received, and continue to receive, from the other club members and coaches.
Does your health condition prevent you from doing other sports?
Not totally, but an example is swimming. I can only do backstroke to avoid extending my neck muscles as you would doing breaststroke or front crawl. I once did an abseil jump off the top of King's College Hospital in London as part of a fundraiser for the Dystonia Society. This in itself was an achievement as I don't like heights. Generally, though I'm not a particularly sporty person.
What type of bow do you use?
I use a recurve bow. For now it is a basic set-up, and I have a clicker but for the moment I don't use it while I'm working on my shooting technique. I've only done target shooting.
Do you enjoy competitions?
I do, which surprised me as I wouldn't describe myself as being competitive. I've shot two competitions: one with the club in Hampshire and the other was in between lockdowns last year with Archers of Raunds' indoor tournament.
How much time do you dedicate to archery?
I usually shoot twice a week, depending on when my [pain management] injections start to wear off; sometimes it'll still be twice a week and sitting one or two ends out. On the volunteering side, I help with setting up and dismantling the range. I also volunteer when there's a competition or fun shoot taking place, if I've decided not to shoot.
At the recent archery Big Weekend event, my main role involved registration, temperature checking, ensuring people checked in, and in some cases I reassured people that everything was Covid secure. I offered them masks and ensured they used the sanitisers before going down to the field; I escorted a couple of people and did my best to answer any archery questions they had prior to introducing them to the coaches. I also made tea for club members and those that had come along to have a go. I did get to shoot a few arrows myself at the end.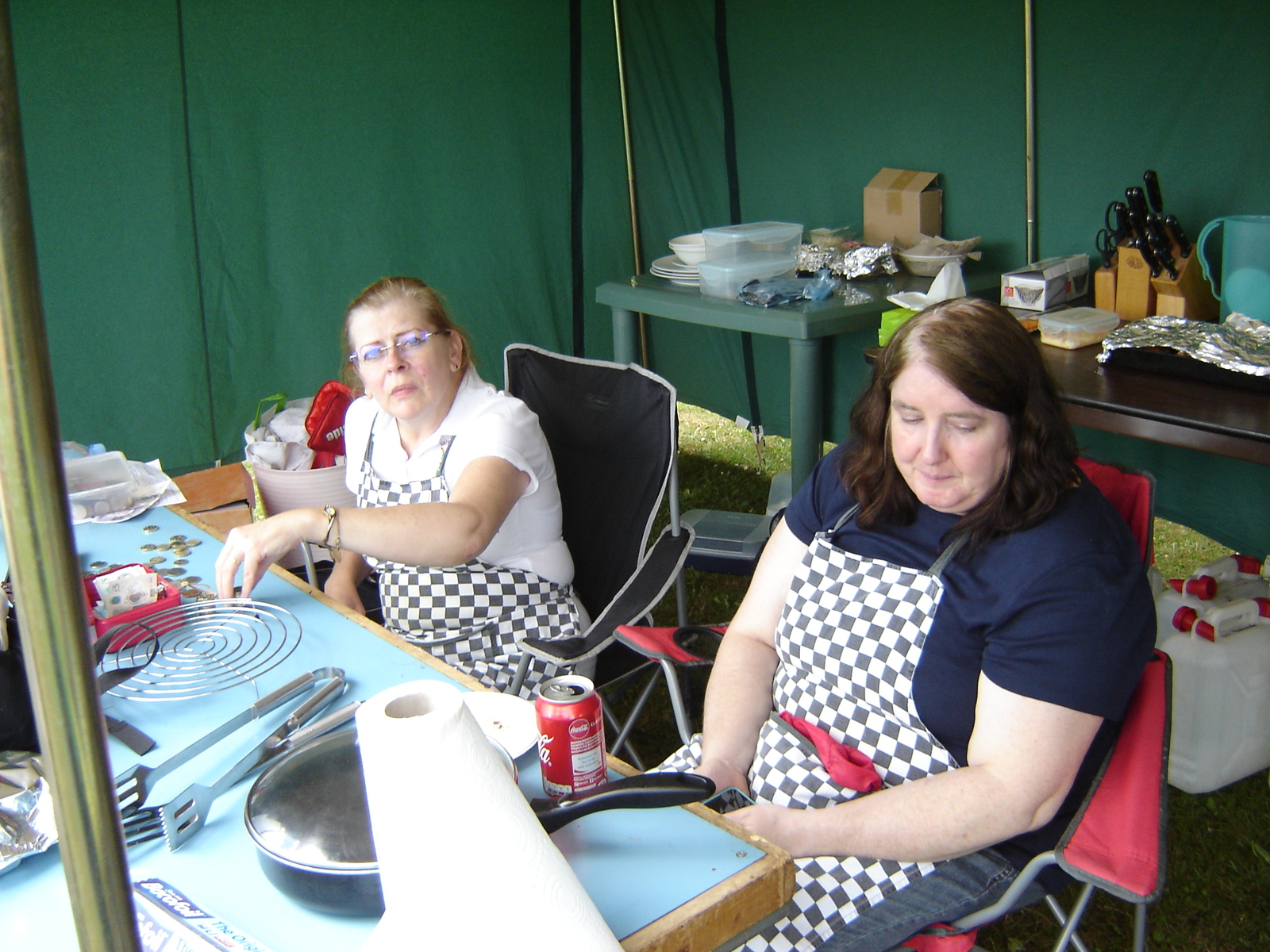 What is the most rewarding thing about volunteering?
We joined the Archers of Raunds in April 2019 but I hadn't shot for a while, what with moving house. The first time I shot it was a bad round which knocked my confidence right out. I felt I was going to have to go back to square one. After initially declining to take part in the club's tournament, because I didn't want to make a fool of myself in front of the guest archers, I instead offered to help set the spectator chairs up, organise the tombola prizes and set the indoor range up. After all that I then changed my mind and took part in the tournament! Volunteering gave me the chance to get to know some of the other club members and boost my confidence, and helped me really feel like part of the club.
Why would you recommend archery to others?
For the health benefits. It's a bit different to mainstream sports such as football, netball, cricket etc. It's also very sociable and being out in the fresh air during the outdoor season is great. I also find if I've had a bad day, it's very therapeutic as you kind of disappear into your own little world, bow in hand – it's brilliant.
Want to start archery?
See how easy it is to get started in archery. You can locate your nearest archery club, learn about some of the kit and types of archery you can try, and find local archery events.