On the International Day of Disability, we meet Amelia, a lower-leg amputee who's not letting her disability stop her from doing anything, including taking on the GB Paralympic team!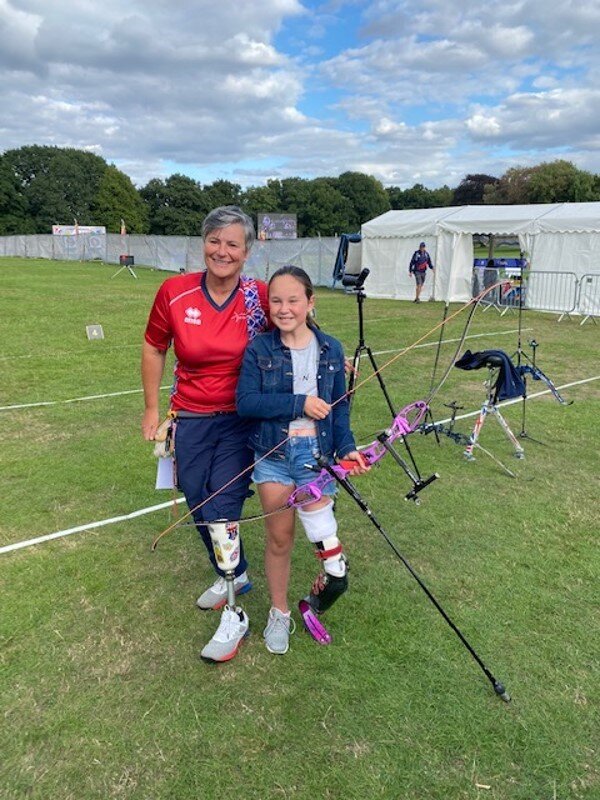 Amelia meets Hazel Taylor and compares notes
The 2022 European Para Cup Finals in Nottingham were a buzz of energy, with spectators cheering and nervous athletes waiting to take their shot at a medal.
While it was amazing to watch some of the best archers in the world do what comes naturally to them, the best part was welcoming a very excitable Amelia Eldred to watch the competition and meet some of the athletes. Amelia lost part of her left leg in 2018 due to osteosarcoma (a type of bone cancer), but that hasn't stopped her. Since then, she's returned to dancing, swimming, cycling via a customised trike, and her new blade leg means she's slowly rediscovering running. She has also tried a slew of brand-new sports, including archery.
She was invited to the Para Cup Finals to meet the para athletes, including GB's Paralympian Hazel Taylor, a fellow lower leg amputee.
As Amelia nervously watched Phoebe Paterson Pine and Jess Stretton battle it out for bronze medal position in the Compound Women Open category from behind her programme, Hazel and fellow Paralympian Dave Phillips sat with her, explaining the different bow types and pointing out who was who. "We like these sorts of events," Dave told her. "Nobody's judged – we've all got some sort of condition. We're the same."
"She first tried archery at Warwick Castle, back when she was in a wheelchair and still having chemo," said Amelia's mum, Michelle. "It was a great experience because anyone could do it and it showed Amelia that she could still be doing sports. She was good at it, too, which helped."
"I've tried it in the middle of a forest, too, with wooden bows," Amelia pointed out. "That was fun!"
Getting some personal coaching from Martin Saych
It's been a challenging few years, but Amelia has "never let her amputation stop her. She's very proud of who she is, and I couldn't be prouder of her," said Michelle.
Watching Amelia go head-to-head with Paralympians Victoria Kingstone and Martin Saych on the knock-down have-a-go targets, Michelle continued: "She's has never let anything stop her from challenging herself. Every day she demonstrates that 'you can achieve your dreams if you don't give up.'"
As Amelia bounced around asking the athletes to sign her event programme, the GB team offered their advice for a potential future career in archery. "Just keep trying different things. Everything else will come easy," Victoria offered, and Martin agreed: "find your local club and just enjoy it. Getting good comes later."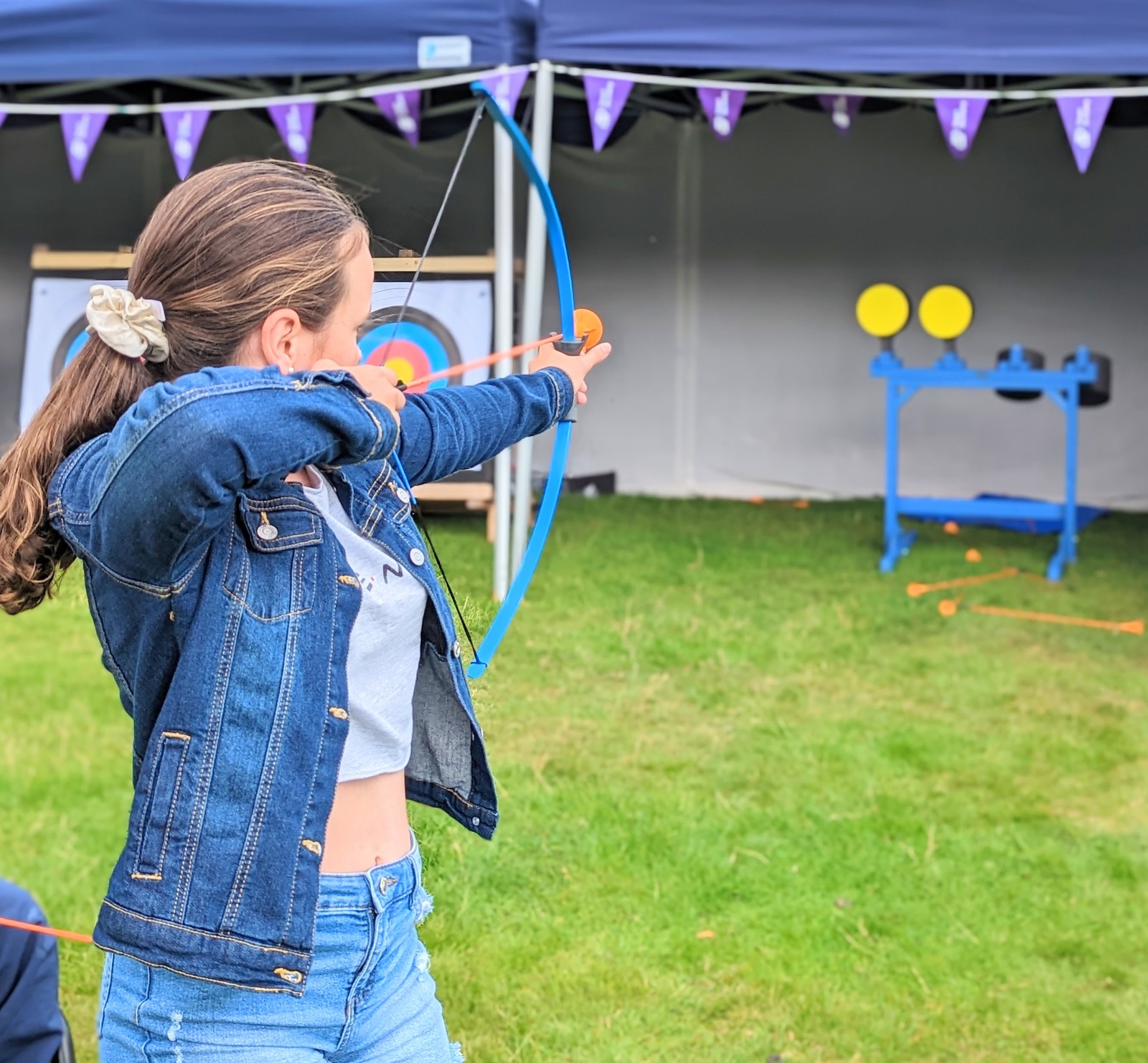 Amelia putting the advice to good use and tackling the knock-down targets
Amelia has quite the list of credentials to her name: she's an ambassador for Kids Village, a charity project that is building 10 lodges and a 'hive' in the Midlands that will offer luxury breaks for critically ill children and their families.
She has also been featured in several BBC news articles, on CBBC's Operation Ouch, as part of an online Christmas advert aimed at raising awareness about inclusion and diversity, and has received Pride of Birmingham's Child of Courage award in 2020.
So, will she be adding GB Paralympic Archer to that already impressive list?
"Maybe," she said with a grin. Watch this space.